Description
Metabolic Nutrition ESP Extreme – Pre Workout

What Is It?
Metabolic Nutrition ESP Extreme is a pre workout like no other. It was created for those who have a high tolerance to stimulants.
ESP Extreme provides a level of strength and energy unmatched by any pre workout on the market.It is so strong, the recommended starting dose is only half a scoop!
Those of you that dare to take a full scoop can experience an energy rush like no other.
How Does It Work?
ESP Extreme is made of mostly stimulants. These stimulants are potent and can provide you with an unbelievable energy boost. This pre workout is designed to allow the consumer to choose the desired level of strength.  The freedom to choose 1, 2, or 3 scoops allows you to meet any specific tolerance and workout needs.
The power in this blend is thanks to the Extreme Energy Complex, created with Caffeine Anhydrous and Theobromine. Due to its potency, be sure to assess your tolerance if this is the first time trying this product.
Ingredients
Caffeine Anhydrous: provides boost in energy.†
Theobromine: similar to caffeine, can help increase energy and focus.†
Di-Caffeine Malate: provides boost in energy.†
Choline Bitratrate: helps with focus.†
N-Acetyl-L-Tyrosine: can help with mental alertness.†
Eria Jarensis: can enhance concentration and alertness.†
Beta Alanine: for buffering lactic acid build up and can help increase endurance.†
Black Pepper Extract: aids in absorption of ingredients.†
What Can I Expect?
Explosive Energy†
Laser Focus†
Increased Strength and Intensity†
Improved Performance†
Increased Endurance†
Who Should / Shouldn't Take It?
ESP Extreme is intended for those looking for an incredibly powerful pre workout to completely elevate their intensity and energy in the gym. Whether you are an experienced athlete or just learning the ropes, ESP Extreme can help you crush your goals in no time.
If you are caffeine sensitive you may want to avoid this product. You should also avoid this product if you are pregnant/nursing, less than 18 years old, taking any products with caffeine or prescribed any medications.
Reviews:
Best Pre! Review by Tom
This is an extremely potent pre workout. Take half of the serving for several days and depending on your body tolerance increase the dose. Awesome product! I've been using it for several months now. (Posted 6/21/19)
Great Preworkout! Review By Jon B
I love this pre workout. Keeps you sharp and focused during your workout. No crash afterward. (Posted 12/5/17)
The Best! Review by Brian S
This is the best pre-workout supplement blend out there. Plenty of energy and lazer focus. I actually prefer this over Mesomorph. (posted 12/5/19)
How Do I Take It?

Dosage and Directions
Due to the strength of E.S.P. Extreme, start with one serving (1 scoop) mixed with 6 fl. oz. of water, 20-30 mins before training.
Once tolerance has been assessed, you may take two servings (2 level scoops) mixed with 12 fl. oz. of water. Persons who have a high tolerance of stimulants, may take the maximum dose of three servings (3 level scoops) with 18 fl. oz.
Do not exceed three servings (3 scoops) in a 24 hour period, combine with other caffeinated products, or consume as a dry powder, doing so will pose risk of adverse health reaction
FAQ:
How much caffeine is in ESP Extreme?
1 scoop contains 250 mg of caffeine. 2 scoops contain 500 mg of caffeine. 3 scoops contain 750 mg of caffeine.
Is there DMHA?
This new formula does not have DMHA, but don't let that fool you! This advanced and updated formula is just as powerful as ever!
What is the best way to use this?
The absolute best way is to first assess tolerance by taking 1 scoop 20-30 mins before any fitness activity including strength training, High-Intensity-Interval Training, weight-lifting and conditioning.†
Can I take this for training at night?
Yes! It is important to understand how caffeine affects you and at what levels. To prevent the common restlessness and irritability at night, it is recommended to not take any stimulants within 3-4 hours of going to sleep.
What should I do if I take too much?
If you are concerned with the amount of caffeine you have taken or are experiencing uncomfortable symptoms such as but not limited to dizziness, vomiting, trouble breathing, headache, irritability, chest pain, irregular or fast heartbeat, you may want to sit, re-hydrate, and take long, slow, deep breathes.† If these symptoms remain unchanged or get worse, locate a hospital for immediate treatment.†
Comparisons:
Vs. Mesomorph: Mesomorph is a popular and well-known pre workout meant for the experienced gym-goer. ESP Extreme stands strong against this powerhouse, delivering energy just as explosive!
Vs. ESP Pre Workout: Metabolic Nutrition created ESP Extreme to top their already powerful pre workout ESP. Sharing similar ingredients, ESP delivers 500 mg of caffeine per Large Scoop.
Vs. Venom: Venom offers 375 mg of caffeine per large scoop. Although less powerful, still considered to provide a moderate energy boost as well as promotes muscle pumps.
What's In ESP Extreme?

Supplement Facts / Label: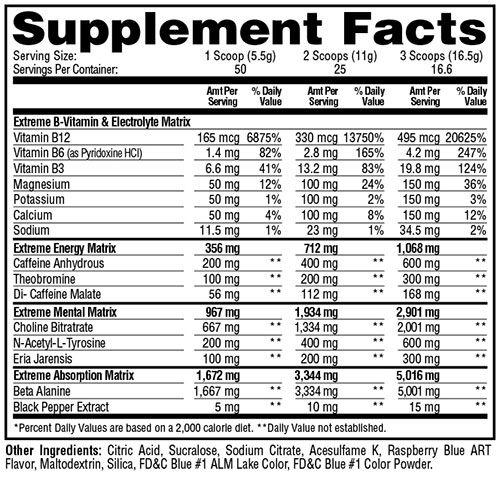 Warnings and Side Effects:
This product is only intended for healthy adults, 18 years of age or older, do not exceed recommendations for suggest use. Before using this product, consult a licensed, qualified health care professional if you are taking:
Any other dietary supplement
Prescription (such as, but not limited to: MAO-inhibitor or SSRI's)
Over-the-counter medication
Or if you have been treated for, diagnosed with or have a family history of any medical condition.
Immediately discontinue use and consult a licensed, qualified, healthcare professional if you experience any adverse reaction to this product. Not for use by women that are pregnant or nursing, trying to become pregnant, or men or women that are sensitive to caffeine.
This product should not be used in combination with caffeine or stimulants from other sources as it may cause:
Nervousness
Irritability
Sleeplessness
Rapid heartbeat
Discontinue use two weeks prior to surgery. Consuming this product 4 hours prior to bedtime may cause difficulty sleeping. Consumer assumes total liability if used in a manner inconsistent with label guidelines. Keep out of reach of children.
California Residents Prop 65 WARNING:
This product contains a substance known to the State of California to cause birth defects or other reproductive harm.